Interview with 4 artists. 09/07/2022
Sep 07, 2022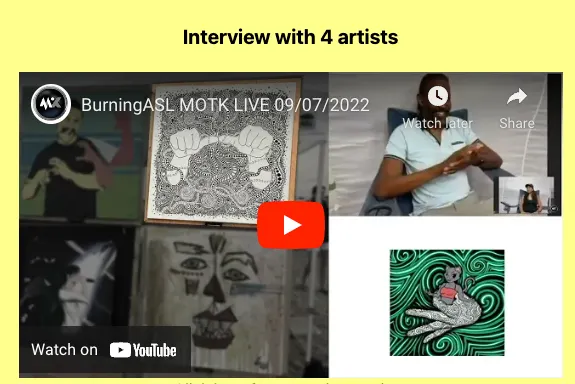 Ben:
Hello World. My name is Ben Pena and I'm the CEO of MOTK has had the great fortune of getting four amazing, brilliant artists and they've created excellent works of art that we've now transferred into NON-FUNGIBLE tokens. I hope you enjoyed the show and thank you for being here.
Jesse:
Hello. My name is Jesse Jones and I'm here with Joshua Hottle. He's the host of this event. And I'd like you, Joshua, to tell us a little bit more about him. MOTK. What's that MOTK?
Joshua:
This is super important. It stands for Masters of the Crypto. So master of the crypto crypto spot with a K and we do everything involved with three web 3.0. And today's big focus is going to be on NFT, a very cool NFT.
Jesse:
So tell us about NFT.
Joshua:
That's another excellent question. NFT stands for non fungible token and basically it's anything you can see. You can essentially turn into an NFT and it becomes a one of a kind, unique piece. For example, there are a lot of dollars that exist out there and lots of copies of them. So those are fungible. But NFTs are non-fungible, meaning they're unique and one of a kind.
Jesse:
Oh, very cool. That technology sounds excellent. So how do you apply this to art?
Joshua:
Yes, that's great. So what we do is we essentially take a work of art and we make it digital. And that work of art is unique and becomes one of a kind. And, you know, if there are deaf artists out there who would like to join and create NFTs for us, we'd be happy to have them.
Jesse:
Very cool. I'd love to see these artists. Excellent work. That's fantastic.
Joshua:
Yeah, these works of art are fantastic. They're unique. They have character and they have diversity. And we've really enjoyed working with these artists. And our hope is that artists love working with us as well.
Jesse:
All right. We're back here with Jon Savage. And interestingly enough, we're both from San Diego and here in San Diego. Jon, do you mind telling us a little bit about your artistic journey and your background and everything that has to do with Jon Savage in art?
Jon:
Yeah, that's a great question. Art has kind of been part of who I was, even from a very young age. And for me, the question was always like, how was I going to express that art? Well, roughly ten years ago, I made the decision that, look, I want to do our full time. I want to be, you know, an artist. And over time, you know, there were just all these surprises that came up. You know, you'd be surprised at how people connect with art. And I just found that to be amazing.
Jesse:
All right. So you've obviously worked a ton as an artist recently. How does that relate to the work that MOTK?
Jon:
this doing and all of that MOTK is a real it's an interesting story. I really kind of appreciate the work that they do. I really I've always been a fan of digital art, even before the time of the Internet, even before the time of websites like in the 1990s. I always thought that was, you know, amazing. You know, I was even part of, like, Adobe's beta because I was just curious and I was always, you know, I became excited over time about this medium of digital art. But at the time it was like, could digital art be sold? Was it something that was like something that people wanted to look at? It wasn't really equal to photography or paintings on canvas, but the concept was there and I noticed that over time it had slowly improved and improved and improved. And then the idea of NFTs came up and I thought, That's what I've been looking for this entire time. And, you know, my thought was, look, my digital art is a great fit for an NFT, but there wasn't really anybody out there until MOTK came around. You know, MOTK being fluent in sign language, being very knowledgeable about NFTs. You know, I had all these questions built up and I, you know, asked them every question I possibly could.
Jesse:
All right, so you've created a work of art for MOTK Do you mind talking about that and kind of what that is?
Jon:
Yeah, sure. The art that I have created over time, my trademark essentially is stripes, and we call that Savage Stripes. You know, when I first started painting, you know, I wanted to do those trademark stripes. I do. I've done over 300 works of art. And all of that is really what I see with my eyes, those things that have inspired me growing up. I take that and I put that into, you know, into the art that I create my experience on the canvas.
Jesse:
All right. Well, that's great. Yeah. So we're showing a work of art here. Do you mind talking a little bit about it?
Jon:
Yeah. This is the sign for Champ? It's actually a recreation of a work of art that I did ten years ago. I painted this. The sign for Champ was kind of my painting was kind of my foot in the door into the art world. And the guys at Mystique were like, we're like, hey, we want you to recreate this work of art. Maybe, like, have a rebirth of this sign. The sign for Champ. And so I started with the green strips at the bottom that represent a kind of freshness. There's the blue that represents peace, and then the teal that represents intuition. And that's kind of like a building block of what I feel like champ represents. There's the red hand, which represents passion. It moves to the orange, which represents excitement. And then when the champ finally lands in that yellow color, it represents happiness. And the entire painting kind of represents goals, intentions. And this concept in sign language that we call champ.
Jesse:
Brilliant. Thank you for sharing. All right. Now I'm here with Jennifer Tandoc. Jennifer, tell me a little bit about your artistic journey. Tell me how you got started and what inspired you to become an artist and the artist that you are today.
Jennifer:
Yeah. So I started drawing when I was about eight years old and nobody really paid any mind to my art until somebody said something. Somebody one day said to me, Hey, you're a great artist. And that really changed my life at that point when I was eight years old. You know, I decided that I wanted to be, you know, a successful artist. And now that my dreams come true, I've kind of continued that, you know, continue that to this day. You know, if nobody had ever said something, who knows what would have happened? But, you know, that one word just kind of gave me inspiration from that day moving forward.
Jesse:
So I'm curious, at eight years old, what were you drawing? Were you, you know, pencil drawing? Were you doing paintings? What were you doing?
Jennifer:
I was doing anything, anything to get, you know, art onto a canvas. It wasn't really. So I started, you know, working very broadly, generally. And that led you to your art that you've created for us today.
Jesse:
Can you tell us a little bit about that, art?
Jennifer:
Yeah. So from the age of eight, I just, you know, I continued drawing and drawing and drawing. And I thought, you know, what are my true passions? And, you know, this sign here is the sign for persistence. And so, you know, this is the art that I created. It took me 33 hours, over three weeks. I drew and drew and drew. And I just felt like in order to complete this, I needed to be persistent. There are a lot of hidden meanings and hidden, you know, intentions behind this that you can see within this artwork. And it's really become something that I'm proud of.
Jesse:
Yeah, that's really nice. So this artwork, you know, how did you get connected to MOTK., tell us a little bit about that.
Jennifer:
So my history is in graphic design, you know, and I really kind of, you know, left the graphic design space for a while. And I'm okay. Explain to me kind of like what was going on with NFTs and I was kind of overwhelmed, truly. I didn't really understand it. And they're like digital art. And I thought, Oh my gosh, that's really amazing that you have the opportunity to create something that will exist, you know, forever, potentially with NFT. So, you know, that's really how I got hooked up with the equity guys.
Jesse:
So what project are you doing with MOTK? What's the plan for that?
Jennifer:
Yeah. So I'm working. I'm doing CWW and we've coined it CWW but it really means cat women's world. I'm a cat person. I feel like I'm like a cat myself, you know, I feel very much in tune and connected with cats. So I want to represent that in my design. You know, cats have a lot of essentially different pieces of who they are. And so I want to represent that in my art. And so nine the kinship essentially for nine or F kinship is how you signed Cat two. So I wanted to represent that in my art.
Jesse:
All right. We're back here with Maria Atkinson, whose name is signed and pointed to her heart. Why is that your name sign?
Maria:
It's a long story. My name was Fernando. When I was a young girl. I went by Fernanda and in middle school, I decided that, like, you know, I wanted to go by Maria. Maria's actually my first name. Fernandez, my middle name. So I felt most comfortable with Maria. So my name is kind of pointed to my heart comes from my name kind of pointed to my heart.
Jesse:
Oh, fantastic. So you're an artist. Can you tell me a little bit about your background? How did you start? How did you fall in love with art? Tell me a little bit about that.
Maria:
Yeah. So my passion for art started when I was like three, four or five years old. I used to love the cartoon Tom and Jerry, I'm sure you're familiar with it. I was just absolutely fascinated by it. And so I started drawing cats and mice and that sort of thing, and that was really my inspiration. I started to realize, you know, I really do like drawing and I just truly fell in love with it. Just all the different aspects of art, painting, drawing, comics and the like. Yeah. Very cool. Now, just out of curiosity, you're your art, you know, you've done all these different types of art, painting, comics, drawing, etc., etc., etc.. Which is your favorite? You know, what? What do you like doing? To be honest with you, my passion is really comics. I like creating stories. I like expressing, you know, digital art in the form of comics. I think they're more interesting. I think there's a little bit of a parallel with real life in comics, their characters that you can look up to and that sort of thing.
Jesse:
Yeah, it's nice. You can share a story through your art, of course, right? So how did you get hooked up with them, MOTK? You know, how did you end up working with them?
Maria:
I'm sure. Yeah. So the web comics that I've developed and I actually post them to what's called the Web Tune app. Right. Right. The Web Tune app. I started doing that roughly six years ago. You know, I developed this webcomic and I'd heard about an NFT and I kind of became interested in them. I thought, you know, NFTs really do have a future. So the webcomic that I've been working on for a really long time, we decided to, you know, make it into an NFT. I have a character called Han Sam. That's a character in Han Sam. And we decided to make him into an NFT. And it's going to be released, actually, this fall. Oh, brilliant. How do I see more of that? Did you have a website? We can check out. Yes, it's on our website. You can absolutely check it out on our website. Great. So you've created a work of art for today.
Jesse:
Can you tell us a little bit more about the work of art that you made today?
Maria:
This is a work of art. This is actually my character, Han Sam. There's a lot of stories behind who he is and what he does. And I've created those stories for him. And can you tell us a little bit about him? I know he has like two personalities or two people inside of him. Yeah. So his name is handsome. He's a K-Pop singer from Korea, and his uncle kind of oversees him, looks at him, makes sure he's doing his job, making sure that he becomes essentially famous. Like that's his goal for his handsomeness. But the Han Sam man himself wants to go out. He wants to be free. He wants to do other things. And he can't because the spotlight is constantly on him. So he has this double life where he sneaks out. And, you know, oftentimes people catch him maybe taking, you know, we'll take a video of him because he's constantly in the spotlight because he's this K-Pop star. So it's about him escaping this reality of his life as a cake pop star and the antics that he falls into and the story we'll talk about, you know, what the result is of his, you know, kind of double life and more characters who will come into his life as the story progresses. Oh, absolutely brilliant. I really look forward to hearing the rest of the story. That's fantastic. Thank you for sharing.
Jesse:
All right. We're now here with Oluwatobi Adedeji. Olu for short. Olu, please tell us a little bit about your background, how you fell in love with art and what type of art you like doing the most.
Olu:
First, I should say I'm from Nigeria, Africa. I was born there. And that experience for me, you know, was significant. At two years old, I played piano and I knew that, you know, music was what I was going to do eventually, I came to the U.S., I went to the school for the deaf here, and I graduated. I ended up at Rochester Institute of Technology, and I knew for myself that I had a passion for entertainment. I felt like, you know, I had, you know, a talent for it. You know, whether it was in music, whether it was in design, you know, whether it was in arts. And that was really kind of what I wanted to do.
Jesse:
Very cool. So you've created a painting here. Can you tell us a little bit about that painting?
Olu:
Sure. You know, this is an African influenced art called uneven face. You know, oftentimes we think of ourselves as perfect, but we're imperfect people. And the reason why I say that is that, you know, the world goes through different situations. People go through different situations, people experience different barriers and it's my belief that, you know, we'll have these ups and downs. We have waves in our life and an uneven face kind of represents those waves. They represent the force of nature that we are constantly pitted up against. And so how did you end up working with a multi. Yeah, the way that I got connected with them, my take is that, you know, like I said, the idea of I was set on the idea of the deaf community coming together. I had it in my mind that it was the right time essentially to take this leap into technology, into anNFTs and that sort of thing. And the connection with them with tech was fantastic. And I thought to myself, I want to support this idea of deaf artists coming together. You know, you have to have that belief. You have to have that type of community. So they asked me to get involved and I thought, Sure, why not? Now, not only that, but I wanted to spread more representation. Ray, as a black person myself, you know, I felt like we just needed more representation.
Jesse:
Yeah, that's fantastic. Bringing on your artwork, I think, is beautiful, and I really like it. What's yours? What's your next step? What are you working on? Going forward?
Olu:
So for me, I'm trying to expand visibility on my work, on my art and also doing NFTs. I created one called Hidden Chimp. Hidden Chimp is, you know, for me, it represents kind of like the idea that chimps can communicate using sign language. And I just made that connection and I thought that that was kind of fun. So yeah. So I created
Ben:
All Right, we're thrilled that we had this live video of our four fantastic artists. First, we saw Jon Savage. Jon is the producer of those fine savage stripes art pieces. Second, we saw Jennifer. Jennifer Tandoc, who is, you know, one of these most amazing artists, one of these amazing artists that work in like black and white and Penn. So I'm just so impressed with the work that she's done. And, you know, she wanted to shift her work into NFT form. Our third artist being Maria Atkinson, she's really like she's created some fantastic works of art, like comic book art. Just amazing, you know, in the stories that she tells through her art. And then Olu, also our last artist, Old Adedeji, a fantastic, unique type of artist with a brilliant mind and who provides this, like, unique perspective that comes from Africa and his experience there. So we're so happy to have those four artists. I want to thank the four artists for contributing and making this event happen. I want to thank you all for your eyes on our event here. These four artists will make a fantastic difference in the world of art and deaf art and that sort of thing. And, you know, allowing us to create NFTs that will exist in perpetuity, forever, you know, their art will continue to exist forever in digital form. But for now, we're actually going to do something a little bit different. We're going to burn their art so that it no longer exists in the real world. We're going to destroy their art here and now on this beach. But their art will forever live as an NFT. So we're going to truly show the burning of their art. You'll be able to see their art being burned. We are going to be uploading it to burning art. BurningASL.io And in that same location is the location where you'll be able to make a purchase of this art. So burning sales that I hope the reason that we decided to go with this is because ASL Ascension and the reason why we created this thing called ASL Ascension is to get eyes on their art. We want to open people's eyes to what NFTs are. We want to create some curiosity among people who are interested in this type of art. You'll see the art burn here and now on the beach and there forever will live in NFT form. You can buy it online at the website below. Please buy those NFTs their original works of art and they will never be recreated ever ever again. So. So our goal is for you to invest. Remember that that's been said it's not just, you know, a work of art that you're buying. It's supporting these deaf artists. It's one small step that makes a huge leap in terms of the NFT world. So we're excited about that. We're thankful for these artists and we're thankful for their work.