Guest with Dina Padden (Gather & Trade) 09/07/2022
Sep 07, 2022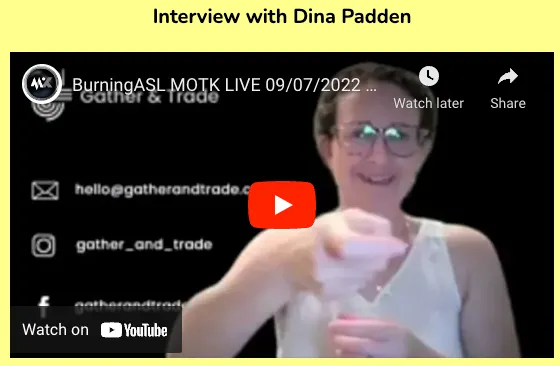 Jesse:
And now we're going to flip to Dina. Hey, how are you?
Dina:
Jesse It's been a long time. How are you? I'm doing great stuff. It's been a long day for me here on the East Coast.
Jesse:
Yeah, the sun actually just set here, so it's really nice and we're excited to do this burning of the art. So we've been talking about an NFTS and I've been seeing a lot of like videos that you've produced talking about NFTs and giving classes about NFTs. Can you maybe tell a little bit more about your company? What's the name of the company again?
Dina:
Yeah, I can talk about Gather and Trade, which is the name of the company. We provide a service where we're able to help with the trading of NFTs. So I grew up in a different country and I moved to the US when I was 14 years old. I learned English here in the U.S. and as a, you know, a sole proprietor, a woman in business, you know, I learned about the stock market. I learned about that sort of thing. And it tends to be an all boys club, which is great. But I wanted more participation from women and also people of different backgrounds, people of different nationalities, people who are second language learners, really. I wanted a diverse community among traders. And so, you know, for us we try to capture the essence of that diversity and we do that through these types of projects, gather and trade. When we first formed, we had the goal or the mission of providing financial education. Just generally, you know, you see the same types of gather and trade reels on our Instagram and basically we formed classes that educate people on stocks and crypto as well. Financial education is not only our niche, but we also provide curriculum development for companies and organizations with regard to finance, with regard to, you know, setting up companies for having a curriculum around these topics. I was a former educator and one of my skills is essentially to be able to interpret language, to make it understood to a wide variety of people and make complicated topics simple, whether through a written curriculum or through sign language, so that people can really understand and get a grasp of these complex topics. So what? Gather and trade does is we're actually expanding here soon. I'm actually studying for my Series six test, which will provide essentially financial advice, meaning that gather and trade education will also add essentially what is a second branch, which is financial services and as we grow these services, we, you know, we're adding and we are essentially thrilled. I have to admit, you know, I wish I had done this a long, long time ago. But, you know, with work and the different avenues that we've pursued, we've essentially landed at a place where we want to support the community. And the community's response has been absolutely amazing. I'm inspired by this type of work. I've always wanted to do this type of work. I've worked in finance first rate, and my first life was working in a financial organization in New York City. And my job and even my BA is focused on accounting and financial planning in the corporate environment. I felt like it wasn't a fit for me. I decided that I wanted to be a teacher, so I became a principal and I worked in education. And now I have the opportunity to put those two worlds together. The beautiful marriage between those two worlds that I've lived in for a really long time. So I felt like, yes, this is the place I finally landed where I want to be. This is what I want to do. This is what the community needs. And it's also really, truly what I need. You know, I inspire other people and other people inspire me. And it's a beautiful relationship that I have with these people. The goal is to make it simple and to the point, and it's a way of looking at gather and trade specifically as a multilayer, multifaceted company. So that's really what we do.
Jesse:
Wow. Thank you for expanding and gathering trade. I think now I have a kind of a better vision or a better understanding of what you do there, I gather, and trade and what your mission is. So I'm curious, you know, crypto in the crypto space, it's you know, it's a new concept for a lot of people. Can you expand a little bit more on education and what you do with regard to that?
Dina:
Absolutely. So crypto for a lot of people is new. Yeah. And for a lot of people it's scary you know, it's scary to leap into it for us, we provide classes in investing, in transacting. Those types of things are in very high demand. As for stocks go now, crypto I think, you know, a lot of people are still very scared of it because you know crypto and if they tease people oftentimes like you know what it is that you know they don't really know. So we started trading crypto. I started, you know, owning crypto and creating different strategies around the crypto market, especially during the pandemic. You know, I've always been a traditional tech investor. I love stocks. That's really kind of my world. But when the pandemic hit, it was a time for a lot of people and for me to explore, to find different instruments. And now crypto being one of them, you know, for me, the nice part about crypto is you don't just need to trade or just to hold. You can actually do many things with crypto. You can play games with crypto where you earn crypto tokens. There's even fitness apps where you can collect crypto, you can invest into crypto savings and create a crypto savings account better are high yield type accounts. You know, you can also do things like cloud based crypto. You can do all sorts of different things with crypto, all sorts of different ways to gather crypto coins, that sort of thing. And for me, you know, crypto has offered great opportunities with the American dollar or with other fiat type crypto currencies like yen. You know, they're lacking, actually fiat type investments are lacking compared to crypto and it's new to a lot of people. Yes. You know, back in the days, people were afraid to use the Internet. Right. It was just a new thing, you know, people just weren't ready for it. And these new concepts take time for people to kind of internalize, absorb and learn about. And our community is definitely underserved, underemployed, under communicated to, and our community tends to be last to the, you know, to the to the party when it comes to these types of things. So for my goal in crypto trading is to bring and deliver this information to the community as quickly as possible so that our community can be on an equal playing field, just like other people hearing people who are able to hear about these types of things, crypto, you know, investment stocks, that sort of thing. You know, for me, our community is less of a party and I want to change that. Our biggest goal is really to change the lives of our community. Our community is very strong. And for us, I think, you know, I want to deliver that understanding. You know, we're extremely, you know, the disability community generally is unemployed or underemployed and the statistics are tough. And for me, it's you know, it's rough growing up. You know, I want to see people grow the same way other communities grow. And I want you to know, I want to be able to contribute more to our community, to our society. When we grow, we can give back and we can support each other even more. So, you know, that's what I'm excited about for gather and trade. That's really the goal of gather and trade. And I'm going to keep doing it until, you know, I'm getting in the ground. I want to see our community grow and be able to contribute more to each other to stop the cycle, the vicious cycle of survival that our community is embedded in.
Jesse:
Yeah, absolutely. I see more and more deaf people becoming involved in growing and exploring this type of space. One of the questions that I have is, you know, is it safe? I guess, you know, for me, knowing very little about it, sure. I don't want to essentially make these types of investments and have them completely disappear on me. Right. Are they safe? Can you talk a little bit more about that?
Dina:
Yeah, it's interesting. Absolutely. I don't know if you follow, gather and trade. But interestingly enough, if you look at my last reel, I talk about the American dollar. I don't know if you had the opportunity to see that out now. Yeah. Okay. Yeah. Basically, the point of that rule was that, you know, the government issued money. It's what we call fiat currency, right? Fiat currency is any money that's essentially endorsed by the government. So the American dollar and its American dollars lost 98% of its value since its inception in 1913. So, you know, you say that crypto could potentially be weak, but even our American dollar doesn't store value very well in people who have banked a lot of money, to be honest with you. They've they're losing money. Those people that bank a lot of money are losing money. So, yes, there's always a risk. There's a risk inherent in everything. The question is, how well are you managing your risk? You know, if you're making these sloppy investments, sure. Inevitably you're it's unavoidable that you'll lose money. But if you're managing your risk well, if you do your homework, if you do your research, you know, if you're well-trained and start small, you know, with small amounts, get a feel for the market, get a feel for how things work. And over time, those baby steps will lead you to a place where I don't think you'll be disappointed. You know, for me, I was, you know, biting my nails when I bought my very first Bitcoin. You know, I was completely sure it was a situation where, you know, I felt like that could tank right. But if you look historically, if you look at the historical charts of Bitcoin, you'll see those downward trajectories and then upward trajectories and the lows always are higher, right, with bitcoin. So, you know, traditionally I've thrown money at it, thrown money at it, thrown money at it, and I've not been disappointed over time. Now we see a low, but I've seen lows before. And those lows don't ever have never been the lowest lows. Right. So they've always had that trajectory on average going up the American dollar follows the same trajectory. It's very similar. And there's very little difference there. One thing that I've found interesting is that in your traditional bank bank, you're essentially insured, right? So you're insured by the FDIC. Crypto savings accounts are not insured by the FDIC. So if you lose the money that's in a crypto account, you lose it. You know, those insurance companies, the FDIC specifically insures bank accounts up to $250,000 per account. Now the crypto market is young. The crypto market is new. The concept of cryptocurrency and cryptocurrency savings accounts are new, but they're popping up all over the place. There are different companies that are establishing these companies and you have to do your homework. You know, a company that's been around for a long time, you know, might be more secure or one that has fees that match what you're looking for.
Jesse:
So you truly do have to do your homework. And I think for me, it's a situation where you have to jump in. You should try, you know, also end up in a situation where you're feeling like, man, I should have, but I didn't, you know, I want people to have enough of the feeling of I should have and more of the feeling of, I'm going to jump in. I'm going to take a small step towards financial security.
Dina:
Yeah. So, you know, I think the more people know, the more they'll be able to manage that risk and they'll be able to get on better. I want to thank you for sharing that information. I really appreciate it.