Guest with Brandon Hill 09/07/2022
Sep 07, 2022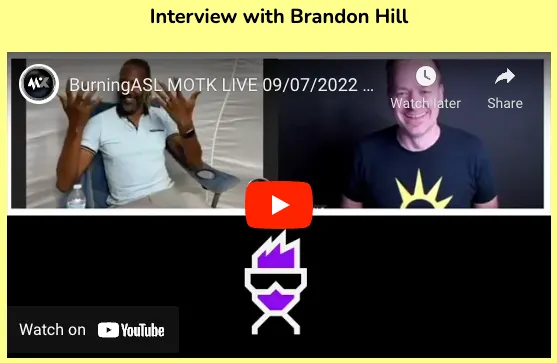 Jesse:
So now we're here with Brandon Hill. Hey there. So what's your name?
Brandon:
Yeah, my name's Sign. I'm signing it this way. It's like a B X in front of me. So the name sends that stuff, you're on your chest. You don't use it anymore? No, I still use it. I use it with my family. And, you know, the people I went to school with in Minnesota. This new name sign is just a little bit more clear, a little bit easier for me to use. So I use it.
Jesse:
Yeah, I really like it's very cool. So now you are absolutely one of the most brilliant people with regard to NFTs. I guess my question is, how do you know so much about NFTs?
Brandon:
Yeah. So I started, you know, reading articles, learning about digital art and NFTs just because I had a passion for it. I always thought that digital art has always kind of been looked down on by the traditional arts. And that's been, you know, something that's just existed for kind of a long time. I'll give you an example of a shift that I feel like art is going through right now. The idea in the past of DVDs switching to Blu-ray and now like people streaming Hulu, that sort of thing. Music did the same thing, tape CD and then now like 93. And I feel like for Art NFTs are kind of the next step in NFTs really kind of provide a rich experience for those people. And so the way that it all started for me at least, is I saw somebody, you know, there was a person at one time that sold something like 5000 images for $41 million. This particular artist they'd like made a drawing every single day for five years and sold the collection. And to me, I was just like, holy cow. That was like, you know, it was one of the biggest sales of art ever. And, you know, that's actually what gave me the idea to set up what's called a sales pixel. You know, I love pixels. I love that sort of work. I thought it was trendy. So, you know, I thought it was brilliant. I had this art and I figured I'd, you know, make it into NFTs, you know? And I wanted to learn and I wanted to experiment and I wanted to figure out what worked and what didn't work. And that's kind of how I got into NFTs. They're truly a different world. It's a different game. There's so many different avenues that you can go down. With regard to NFTs in the past, entities were thought of as kind of like art in pictures and elaborate on like the other things that it can do in a little bit. But there's many different ways to use NFTs. Some are just utility based, some are just works of art, some are collections. You know, there are all these different routes you might have seen. A board animal yacht club is kind of a more famous example. No, I haven't seen that. Yeah, this is just an example. It became super hot. People were really kind of investing in this type of art, this sport, animal, club art. And it was really the VIP access to like a yacht club and people would network there and people invested to get into this cyber busting other like O.G. kind of like kind of created the idea of Nfts as an investment. And it really kind of depends on what your offerings are as far as NFTs go, you know, you can have NFTs as proof of ownership. I'll give you an example. You know, in Europe for soccer games, a lot of people will scalped fake tickets. Now the question is, how do you know whether a ticket is real or if it's a fake ticket? Well, Nfts are kind of a good way of proving that you have a real ticket. And it also serves as a souvenir that shows like, you know, I went to this event and I own this NFT and this represents that I, you know, I went to this event, so I jumped in because I really wanted to learn something new.
Jesse:
Very cool. I'm still trying to wrap my head around this concept of NFTs. It's just it's so new to me if I'm being honest. And so I guess NFTs, you know, can you expand a little bit more about a pixel and you know how that's related to NFTs and your work with NFT is?
Brandon:
Yeah, absolutely. So I wanted to do something different. I was a freelance designer for a long time, you know, I do. I was bored of making t-shirts, bored of making logos. I was kind of out on that, on that type of work, and I wanted to do something different. So I really like the idea of design in motion. So gifs of finger spelling, something that would apply to a general audience or the deaf community is relatively small. And then the people in the deaf community who would be willing to invest in an NFT is even smaller. You know, I teach cell phones so I wanted to see a broader audience, right? I wanted to, you know, create art that both communities, the hearing community and the deaf community would enjoy. So I created some apps that when you purchase it not not all NFTs do this by the way, but so the person who bought this NFT would actually own the IP and behind this art and can use that to make a profit. And this is kind of a unique and different concept. So essentially you buy it, you own the NFT and you own the intellectual property. You can print T-shirts with these images on them. You can, you know, do whatever you want with them. To be honest, you know, some NFTs function differently. There's, you know, for example, you can do something where you create something like a creative original and then you offer no ownership. But with my NFT, it's a situation where you bought them, you own the IP, you have the rights to it, whereas other ones you might not own the rights to that image, you know? So that's what's different about my art. Okay, so I buy this NFT and I hold it, but I don't sell it. Oh, you could sell it if you'd like. You know, people are always buying and selling and NFTs, you know, so I could potentially buy it and you could sell it for maybe ten to you could buy it and then sell it maybe for ten times what it's worth. You know, you can always sell it for crypto to, for example, Ethereum is is heavily used in this space. Solana works too, buy Etherium is truly kind of the more popular one. Obviously Bitcoin being the most popular and then Etherium being the second most popular, but they're not smart contract type NFTs they're just cryptocurrencies themselves. So Ethereum kind of has this smart contract side of it.
Jesse:
So if you use Ethereum, it holds its value just like the stock market, right?
Brandon:
Right now the value is something like $1,600 per Ethereum coin. It actually did hit 4000 at some point. It went down to like 900 and it's back up just like the stock market, you know, it's just like money, you know, your regular money changes value as well too. You know, you sometimes can hold your money as an investment or you can invest it as an investment.
Jesse:
So you can either keep or sell it and NFTs work in exactly the same way. It's really up to the holder to decide whether they want to hold long term or sell.
Brandon:
Yeah, absolutely.
Jesse:
So you have different types of NFTs that you've worked with. Have you sold many or is it hard to break out or get into the market?
Brandon:
So Pixel has sold very much, but we've also expanded into different types of art. 3D pixels, that's really kind of like one big honor that I have is Gallaudet University reached out to me for Tim Cook. Tim Cook, yeah. Tim Cook, actually, who you know, for, for their graduation celebration. I did one with Tim Cook, fingers framed and it was actually done in 3D. And then Tim Cook also signing the I Love You Hand Shape on stage is another work of art that I made. It was a nice honor. We gave it to him specifically as a gift from the deaf community. And I thought that was amazing. That is amazing. And thank you for telling me, you know, all of this information for sharing all this information about is with me.
Jesse:
It's still new. There's still a lot to learn for me.
Brandon:
Yeah, you can do research, do research, jump in, figure it out, play around with it, and you'll have a better understanding of it.
Jesse:
Absolutely. Thank you for sharing.